The Occupants of 200 Emils Way space #9 in the Green area called 911 at 9:27 pm on Thursday evening to report a fire in one of the bedrooms.  Douglas County Fire District No.2 crews responded and reported seeing light smoke coming from a window in the front bedroom of the home.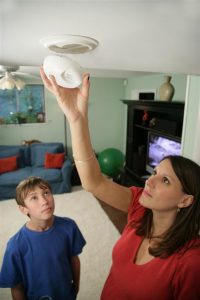 The occupants had met the first arriving crews and advised them that all occupants were out of the home.
Firefighters were able to extinguish the fire with a small amount of water before it had a chance to spread to any other rooms of the home.  A second crew arrived shortly after to assist with overhauling, cooling and the removal of the smoldering debris.
The fire was centered around an area where electrical wiring and smoking material were found.
DCFD2 responded to this incident with 2 fire engines, and 1 command unit.  They were assisted by Winston-Dillard Fire District, Bay Cities Ambulance, Pacific Power and Light, and Avista Utilities.
DCFD2 would like to remind everyone that smoking was one of the leading causes of fires in the state of Oregon last year.   Many things in your home can catch on fire if they touch something hot like a cigarette or ashes.  Sunday, March 12 marks the beginning of daylight saving time and serves as a good reminder for everyone to test their smoke alarms.