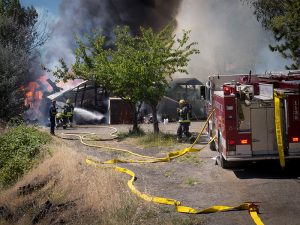 At 10:48 a.m. Tuesday morning Douglas County Fire District No. 2 was dispatched to a possible structure fire in the area of 300 Amanda Street in Roseburg.  The fire was originally reported by someone that had seen smoke coming from treed area above Broad Street but they were unsure of the exact location.
While DCFD2 crews were on their way to the scene they noticed a large column of heavy black smoke and immediately called for a second alarm.
DCFD2 crews arrived to find a detached garage and part of the home was fully involved with fire.  The fire had also ignited the hillside to the west of the residence.  The homeowner made contact with the first arriving crews and advised them that everyone was out of the home safely.
While crews worked to extinguish the fire in the garage and residence, additional crew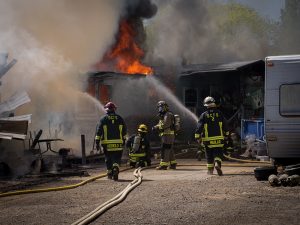 s worked to contain the natural cover fire that was burning up the steep hillside.  The second alarm brought additional resources and personnel to the scene to assist in the firefighting efforts.  Crews remained on the scene for several hours cooling and removing hot spots of smoldering debris in the structure and also on the steep hillside above.
No one was injured during the fire, but the garage and residence are a total loss.
Fire investigators believe the fire started in the garage area after the homeowner had been grinding on a metal boat trailer earlier in the day.
DCFD2 responded to this incident with 3 fire engines, 1 water tender, 1 truck company, 4 command units, and 21 firefighters.  They were assisted by Roseburg Fire Department, Douglas Forrest Protection Association, Winston Dillard Fire Department, Lookingglass Rural Fire District, PP& L and the Red Cross.