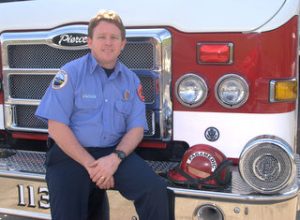 Andy Hatfield
Captain Andy Hatfield started his career as a firefighter in United States Air Force from 1984-1988. He joined DCFD #2 as a volunteer 1988 – 1992 and became a paid firefighter in 1992. Captain Hatfield recieved his Paramedic certification in 1992 and received a Bachelor Degree in Business Management from Northwest Christian College in 1999.
Captain Hatfields responsibilities and activities include:
Rescue team member
Community involvement:
UCC Fire Science advisory committee
UCC EMS advisory board
Douglas County Special Olympics / Camp Shriver Board Board supporting Douglas County Youth with Disabilities
---
Barry Hutchings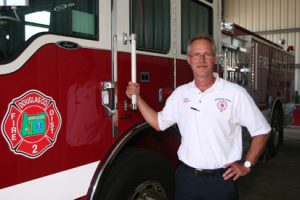 Captain Hutchings joined the volunteer program at Douglas County Fire District #2 in 1986. During that same period he enrolled in the paramedic program at UCC.
He was originally hired as a full time firefighter at Douglas County Fire District No. 2 in July of 1991. Barry moved onto the position of Fire Chief at two different organizations before coming back to Fire District No. 2 in June of 2008. He is a current member of the Technical Rescue Team. Holds an AAS degree in General Studies with a minor in EMT from Umpqua Community College. Received a Bachelor of Arts Degree in Management from Northwest Christian College in Eugene Oregon.
Professional philosophy.Captain Hutchings believes that our customers trust us to provide them with the highest quality of service achievable. The Fire Service has an awesome responsibility to ensure that we provide the most benefit possible with the resources that have been made available to us by the public.
---
Scott Richardson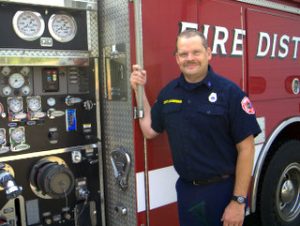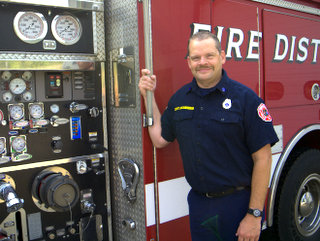 Captain Richardson started in the fire service in 1995 when he became a resident volunteer at Polk County Fire District No. 1 in Independence, Oregon while attending the Chemeketa Community College fire science program in Salem. He graduated with an A.S. Degree in Fire Suppression from Chemeketa in 1997 and obtained his Paramedic Certification from the College of Emergency Services in Portland in 1998.
Captain Richardson began his full time career in 1999 after being hired by LaPine Fire District in Central Oregon. A few months later in 1999 he accepted a position with Douglas County Fire District No. 2. During his time with the district Captain Richardson has worked up through the ranks of Firefighter, Engineer, Lieutenant, and his current position as Captain. While employed with the district Captain Richardson continued his education and obtained his Bachelors Degree in Public Safety Administration through Grand Canyon University in 2008.