Ray Shoufler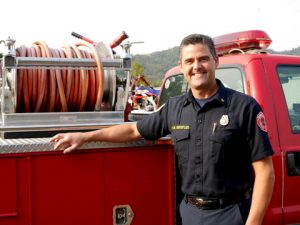 Fire Marshal Shoufler started in the fire service in 1995 as a volunteer with the city of Sutherlin, while attending the fire science and paramedic program at Umpqua Community College. In 1997 he graduated with a A.S. Degree in Fire Science and also received his Paramedic Certification from the state or Oregon.
He was originally hired as a full time firefighter for the city of Sutherlin in 1997 and then was hired by Douglas County Fire District No. 2 in 1999. While with DCFD2 Fire Marshal Shoufler has held the position of firefighter, engineer and Lieutenant before accepting his current position. During that time he has been a member of the technical rescue team and the honor guard.
Fire Marshal Shoufler continues to work on his education with building codes and plans review classes through the International Codes Council and the State Fire Marshal's office.