For information on volunteering with Douglas County Fire District No. 2 contact Lt. Ryan Felker at 541-673-5503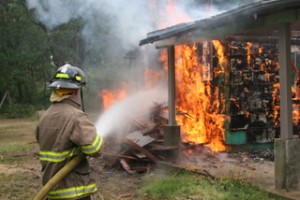 Click here for the Volunteer Firefighter Job Description and Application (external website)
Current volunteer status:
6 regular volunteer firefighters
4 support volunteers
20 student volunteers
Support volunteers are members who do not enter hazardous environments. They help at emergency scenes in areas such as rehabilitation, running errands for command, as well as a number of other non-hazardous activities. They also help with fire prevention and education activities such as our smoke alarm program.
Students are members who are looking at making firefighter a career and are participating in the cooperative work experience program at Umpqua Community College.
Volunteer drills are held every Tuesday evening at station #9 from 1900 – 2100 hours. The first Tuesday of each month is a business meeting held at station #9. Any month that has 5 Tuesdays, we hold a "5th Tuesday drill". This is a meeting held at Dakota Street Pizza. Volunteers are also welcome to attend any paid drills that are held during the week.
Once a year, from January to March, we hold a Firefighter academy for our new volunteers. This academy is taught by our paid staff. The purpose of this academy is to prepare any new volunteers to become NFPA / DPSST Firefighter Ones and introduce them to Fire District No.2 practices and procedures.