Deputy Chief Rob Bullock of Douglas County Fire District No.2 has successfully completed the "Executive Fire Officer Program" (EFO), through the Nation Fire Academy (NFA).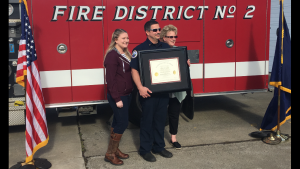 The National Fire Academy's Executive Fire Officer Program provides senior fire officers with a broad perspective on various facets of fire and emergency services administration. The courses and accompanying research examine how to exercise leadership when dealing with difficult or unique problems within communities.
The program takes four years to complete and consisted taking one course per year. Each course is two weeks in duration and is the equivalent of an upper division baccalaureate or graduate level course.