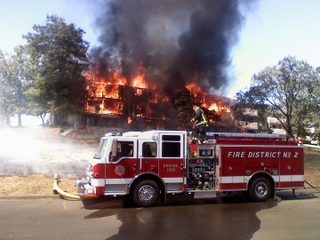 Douglas County Fire District No.2 responded to a reported structure fire at 125 Village Drive Apt #41 at 2:49 this afternoon. Upon the arrival of the first engine (approximately 4 minutes after the dispatch) heavy smoke and flames could be seen coming from the second story of a multi-unit apartment building and a second alarm was called.
Deputy Chief Greg Marlar arrived on scene shortly after the 1st engine and assumed command of the fire. A 3rd alarm was called at that time.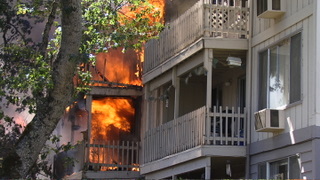 There were 12 – 15 apartments involved in the fire which displaced several families. The American Red Cross responded to the scene to assist them. There are no reports of injuries and the cause of the fire is under investigation.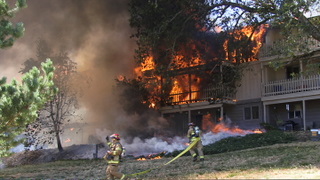 Approximately 40 firefighters responded to the scene. Fire District No. 2 responded 6 Engines, 2 Ambulances, 5 Command Staff. The City of Roseburg responded 2 Trucks and 4 Command Staff. Units from Douglas County Sheriff's Department and the Roseburg Police Department also responded.