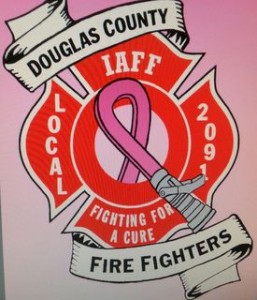 October is celebrated as "National Breast Cancer Awareness Month." Local and State Governments take traditionally prominent steps throughout the month to raise awareness and alert citizens about the devastating effects of this deadly illness.
After a successful first year, DCFD2 Firefighters and Paramedics are holding again a pink T-shirt fundraiser during the month of October. Last year's campaign raised approximately $2,000 for the Treva Hoffman Foundation, far more than originally expected.
Firefighters from IAFF Local 2091 and Paramedics from IAE&P Local 307 will wear and sell custom designed pink T-shirts with the distinctive Breast Cancer Awareness ribbon, District acronym (DCFD2), and the logo of their respective Unions in support of Breast Cancer Awareness Month. The shirts will sell for $15.00 each. All proceeds will benefit the Treva Hoffman Foundation, which supports advanced cancer research in Oregon and helps provide the valuable resources scientists need to do vital cancer research towards the finding of a cure.
Fire Chief Greg Marlar stated "Often times, even timely diagnosis and treatment are not enough for those affected to beat the disease. That is why Douglas County Fire District No.2 and its Firefighters and Paramedics are joining forces to spread the message that early detection may make a major difference in thousands of lives."
Breast cancer Awareness T-shirts can be ordered at any DCFD2 Fire Station and at the District's Headquarters. They can also be ordered by calling 541-673-5503.