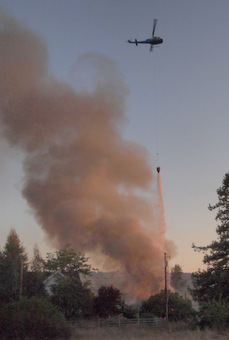 Douglas County Fire District No.2 firefighters responded on Friday (September 7th) at 06:57 p.m. to a reported grass fire at 1058 Troost Street in Roseburg.  Responding units reported that a large column of smoke was visible from the intersection of Garden Valley and Fisher Road.  The first unit (Engine 1135) arrived on scene at 07:05 p.m. (8 minutes later), and found a fire that started on a field adjacent to two structures (a house and a barn), spread to the two story barn, and was also posing an immediate threat to the 1897 two story house.  Firefighters brought the fire under control within 34 minutes, limiting the damage to less than one acre, and the barn structure. The incident brought 6 DCFD2 units to the scene and 19 firefighters, including 1 water tender that provided fire suppression water to the fire engines due to the significant distance to the nearest fire hydrant.
DCFD2 was assisted by the City of Roseburg Fire Department, Douglas Forest Protective Association, and the Douglas County Sheriff's Office.   Fire investigators determined that the fire was accidentally caused by the home owner with a spark generated when the riding lawn mower he was using struck a rock with one of its blades, which ignited the grass.  Losses on the barn are estimated at $20,000.  No injuries were reported.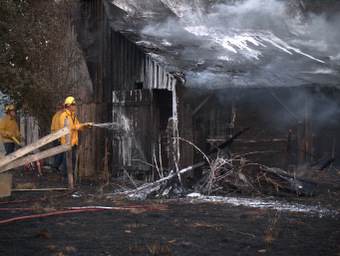 This incident is a reminder of the seasonal fire risk in our area.  According to Fire Marshal Josep Pedrola "We were fortunate today because of the low wind at the time of the fire, and the ability to commit a large number of resources to this incident because there were no other fires in the area at the time.  Had this occurred during a high wind condition, and with resources spread thin it would have been a different story."  DCFD2 urges the public to use caution during high temperature periods when the fire danger level is high or extreme.