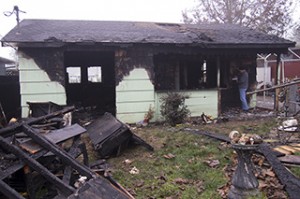 At 7:09 last night fire crews were dispatched to the report of a fully involved house fire, with cars in the driveway, at 327 Kruse St. in Sutherlin.  The first engine arrived on scene at 7:13, and reported a fully involved residential structure with one exposure on fire and a second exposure threatened.  With the help of Sutherlin Police the crews quickly determined that the residents were out of all 3 structures.  The firefighters quickly put hose lines in place to extinguish and protect the exposures.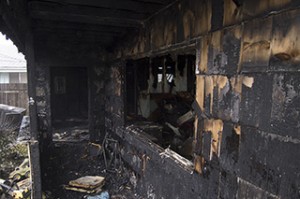 The firefighters then turned their attention to the fully involved structure.  The fire was brought under control at 7:39 and crew remained on scene for 2 more hours checking for any hidden fire.  Investigators will be on scene this morning to determine the cause of the fire.
The residents of the house and 3 of their dogs escaped without injury; unfortunately a 4th dog reentered the house and perished.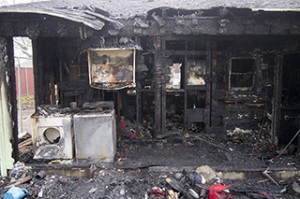 Douglas County Fire District No. 2 responded with a total of 4 apparatus, 1 staff vehicle, and 22 personnel. Oakland Fire responded with 3 apparatus and 8 personnel.  Fire crews were also assisted by Sutherlin Police, Pacific Power, and Avista Gas.