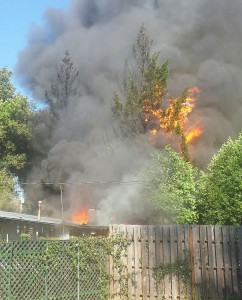 Douglas County Fire District No.2 firefighters battled a stubborn house fire at 757 Buckhorn Road in Dixonville that was reported at 7:31 p.m. last night. Responding fire crews reported large flames and heavy smoke visible from the North Umpqua Highway as they approached. Once on the scene, Firefighters encountered thick, black smoke and fire engulfing the back of the house, deck and two large fir trees.
The windows of the home were open which allowed the fire to spread to the interior of the residence. The occupants exited the house safely before the arrival of the first fire crews. The fire was declared under control approximately 30 minutes later, and fire crews remained on scene for several hours mopping up hot spots.
The home owners were inside the home watching television when they smelled smoke. They went outside to investigate and found the back of the home and deck engulfed in flames.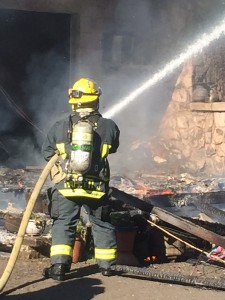 No one was injured during the fire, but the structure is a total loss.
Fire investigators determined that a refrigerator on the back deck was the cause of this fire.DCFD2 responded to this incident with 3 fire engines, 2 water tenders, 1 command unit, 1 ambulance and 10 firefighters. They were assisted by Glide Fire Department with 1 water tender and 2 firefighters, PP& L, Avista Utilities.