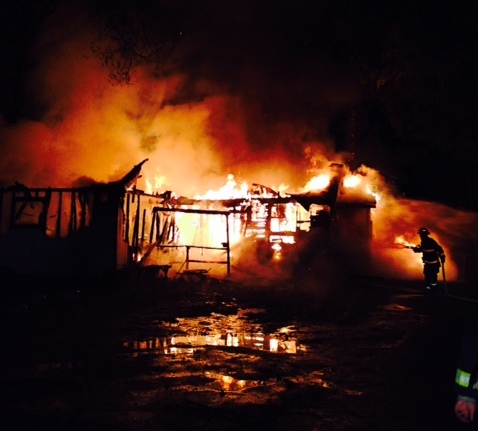 Douglas County Fire District No.2 firefighters battled a house fire at 2590 Page Road in Winchester that was reported at 11:39 p.m.  Due to the isolated location and driveway access, there were conflicting reports as to the exact address of the home   Crews were unable to pinpoint the location until they arrived in the immediate area and could see the glow of the fire through the trees and dense fog.  The first fire crews arrived on the scene at 11:48 p.m. and reported that the residence was completely involved with fire.
Crews made contact with some family members that were staying in a camp trailer on the property.  They advised the crew that no one was home because they residents had gone out of town for the weekend.  The fire was declared under control at 12:01 a.m. and crews remained on the scene for several hours extinguishing hot spots of fire and cleaning up.
No one was injured during the fire, but the 1953 structure is a total loss.
Fire investigators will be on scene today trying to determine the cause of this fire.
Initial damage to the building and its contents is estimated to be $80,000.
DCFD2 responded to this incident with 3 fire engines, 3 water tenders, 1 command unit, and 12 firefighters.   Pacific Power and Light and Avista Utilities assisted at the scene.