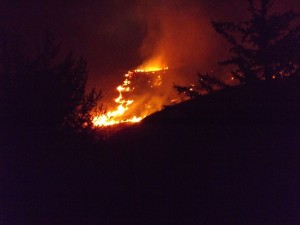 At 8:57 pm DCFD2 firefighters responded to a reported grass fire in the 6400 block of Old Highway 99 South in Roseburg Wednesday night. Responding units advised Douglas County dispatch that the initial fire appeared to be approximately two acres in size with a high flame front moving rapidly uphill. Access to the fire was difficult due to its location and the rough terrain. Fire fighters requested assistance from Winston Fire Dept., Lookingglass Rural Fire District and DFPA. Some of the crews gained access to the fire by way of Nehalem Loop to provide structural protection, while other crews were able to make access to the fire from Harmony Drive. All the crews worked together and brought the fire under control by 9:46 pm, limiting the damage to only the natural ground coverings. The incident brought 6 DCFD2 units to the scene and 8 firefighters, including 2 fire engines, 2 brush trucks, 1 water tender and 1 command vehicle. DCFD2 was assisted by Douglas Forest Protective Association, Winston Fire Dept. and Lookingglass Rural Fire District. No cause has been determined yet although fire investigators were scheduled to be back on the scene this morning. No injuries were reported.
Presently our area is in an EXTREME fire danger regulation; this incident is a reminder of how fast a fire can start and spread. According to Fire Marshal Ray Shoufler "We were fortunate because of the time of the fire, evenings are generally cooler with little or no winds, and the ability to commit a large number of resources to this incident because there were no other fires in the area at the time. Had this occurred during a high wind condition, and with resources spread thin it would have been a different story." DCFD2 urges the public to use caution during high temperature periods when the fire danger level is extreme.
To reduce your chance of unwanted fires check regularly on current seasonal restrictions by logging into DCFD2 web site at www.dcfd.org or calling (541) 673-5503. You may also check on seasonal restrictions by visiting the Douglas Forest Protective Association web site at www.dfpa.net or calling its Closure Information Hotline at (541) 672-0379.