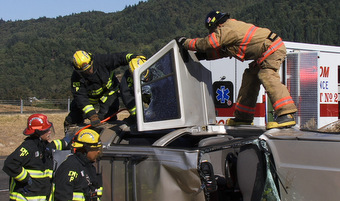 Firefighters from DCFD2 were dispatched this morning at 09:32 a.m. to a single vehicle rollover accident on Interstate 5, Mile Post 131 North Bound in Winchester. On arrival at the scene at 09:38 a.m. (6 minutes later) firefighters found an Isuzu sport utility vehicle (SUV) on its side on the right shoulder of the free way, and three people that were hurt. A male passenger and the female driver were out of the vehicle, while a female passenger was still trapped inside the overturned SUV. Because of the multiple patients involved, the initial response was upgraded, which brought within minutes additional firefighters and ambulances to the scene.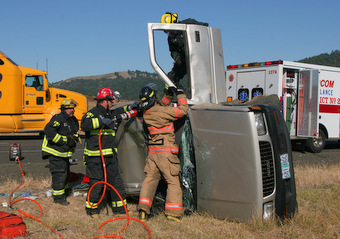 Firefighters and Paramedics worked quickly to triage the patients and begin caring for the trapped female and the driver since they were most seriously injured. The male passenger presented only minor injuries. Firefighters worked in teams to stabilize the vehicle, and began cutting it apart so the trapped passenger could be removed. All three vehicle occupants were transported by ambulance to Mercy Medical Center. Oregon State Police is investigating the cause of the crash.
"It is in crashes like this that training and up to date extrication equipment makes a difference in the final outcome of the patient," says DCFD2 Fire Marshal Josep Pedrola. "We were fortunate to put the equipment used this morning to free the trapped occupant of the SUV into service in early spring thanks to grant money we received from the Cow Creek Umpqua Tribe of Indians."
DCFD2 responded to this accident with 11 Firefighters and Paramedics, 1 fire engine, 3 ambulances, and 1 Command Unit; and was assisted by Oregon State Police Troopers and ODOT Crews.