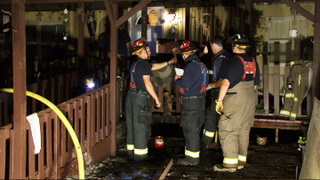 Douglas County Fire District No. 2 firefighters responded to a structure fire early Friday morning.  Units were dispatched to a fire at 983 Plateau Drive in Roseburg at 0255 A.M. Friday.  First arriving firefighters found a single wide manufactured home with an attached porch.  The porch was burning rapidly and the fire was threatening the manufactured home.  Firefighters quickly extinguished the fire and checked the home to make sure the fire did not spread into the home.  The home was filled with smoke but the fire did not extend into the home.  Firefighters used large fans to remove the smoke from the home.
 
An occupant of the home (name unavailable at this time) has limited mobility and had to be assisted from the home and into his wheel chair.  Fire officials are thankful that the fire was recognized while it was burning on the porch and not extended to the manufactured home.  Residents with disabilities are at a significantly greater risk of being injured in a residential fire due to the increased time it takes to evacuate.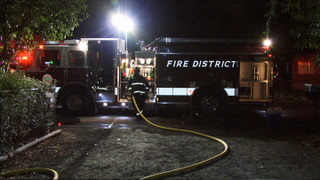 The home was owned by Flossie Lillard.  The Red Cross responded to the scene and assisted the home owner.
 
The cause of the fire is under investigation at this time.
 
No damage estimate is available at this time.
10 firefighters , 3 fire engines , and one command unit responded to the scene.