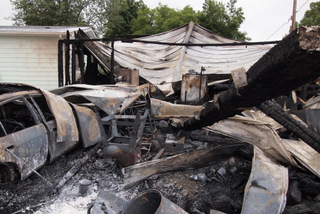 Douglas County Fire District No.2 crews responded this morning at 03:41 a.m. to a report of a garage fire at 3788 Amber Lane in Green. On arrival at the scene at 03:46 a.m. (5 minutes later) firefighters found a carport and storage building, as well as, large amounts of fire wood that was piled along the walls of both this buildings and a nearby power pole fully engulfed on flames. The fire was so intense that threatened to spread to the residence of property owners Terry and Sandy McVay, located only 4 feet from the garage. Flames and radiant heat hindered firefighters from being able to initially approach the residence and from using a nearby fire hydrant.
The fire was reported to 911 by a neighbor. The property owners were asleep and woke up to the sounds of the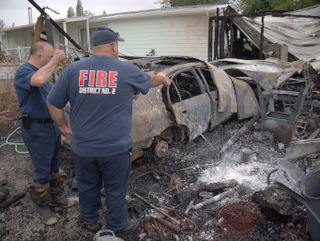 fire, and evacuated the house safely.
The incident was declared under control at 04:12 a.m. (26 minutes after arrival). Firefighters remained on scene mopping up smoldering remains until 06:53 a.m. Fire Marshal Josep Pedrola commended the assistance received from neighbor Ron Poteet who helped with his tractor and backhoe moving the large amounts of fire wood present along the side of both buildings and spreading it out nearby to ensure firefighters could extinguish it thoroughly.
Fire investigators determined that this fire was caused by the electrical overheating of a receptacle located inside the storage building.
Initial damage to the buildings and their contents is estimated to be $25,000.
No injuries were reported.
DCFD2 Fire Chief Greg Marlar stated" fire crews did a great stop on this early morning fire and were able to save the residence despite the intense flames they encountered upon their arrival."
DCFD2 responded to this incident with 2 fire engines, 2 command units, and 12 firefighters. They were assisted by Winston-Dillard Fire District, Douglas County Sheriff's Deputies, PP& L and Avista Utilities.