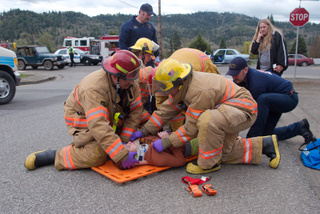 Wednesday evening at 5:17 PM, Roseburg City Fire Department Firefighter / EMTs and Douglas County Fire District No. 2 Paramedic Ambulances responded to a motor vehicle crash on Diamond Lake Blvd at Miguel Street. Dispatch information reported that 2 vehicles were involved with one patient unconscious. Oregon State Police officers were the first on scene and reported a female trapped in a vehicle.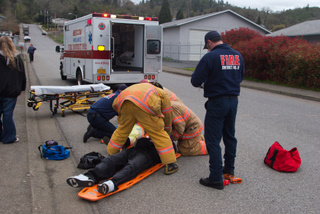 The unrestrained female driver of a Honda Accord was traveling east bound on Diamond Lake Blvd when it struck a Mitsubishi SUV that was stopped to make a left hand turn. The Accord sustained heavy damage to the front of the vehicle, trapping the driver until Fire Department personnel were able to extricate her. The occupants of the other vehicle did not require extrication.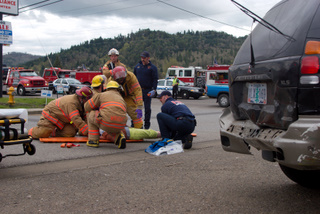 The first arriving ambulance requested that a second ambulance be dispatched after doing an initial scene size up to determine how many people were injured. Three people were transported to Mercy Medical Center by Fire District No.2 Paramedics.
Roseburg City Fire Department responded with 2 Engine Companies and a Battalion Chief for Incident Command.