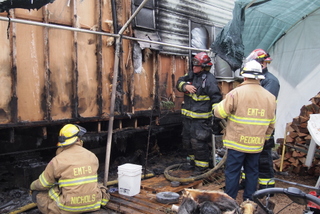 At 4:46 p.m. on Sunday, April 21st, Douglas County Fire District No.2 firefighters were dispatched to a reported house fire at 2416 Roberts Creek Road in Green.   On arrival at the scene firefighters reported an exterior fire underneath the home, possibly extending to its interior.  Firefighters were able to confirm that the occupants were not home, as they worked on extinguishing the fire. The fire was declared under control within minutes; although, fire crews remained on scene for approximately 50 minutes mopping up hot spots.
The fire was discovered by the owner of the home, who lives next door.  He reported to 911 dispatchers that heavy black smoke and flames were visible on the side of the 1973 manufactured home.  The owner, assisted by neighbors attempted to douse the flames with a garden hose, which prevented the rapid spread of the fire before the arrival of fire crews.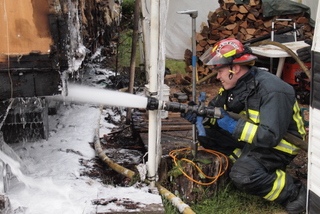 No one was injured during the fire.  Initial damage to the building and its contents is estimated to be $2,000.
Fire investigators determined that this exterior fire started along the south east corner of the home, in an area next to and under the skirt, and then spread to the inside of it.  The fire also damaged a canopy and several items stored under it.  The cause of the fire still under investigation.
DCFD2 responded to this incident with 2 fire engines, 1 command unit, and 7 firefighters.  They were assisted by Winston-Dillard Fire District No.5 with 1 fire engine and 3 firefighters, and PP& L.