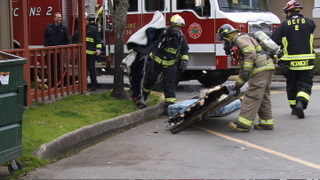 Douglas County Fire District No. 2 responded to a commercial structure fire Monday morning at the Rose Villa Apartments located at 2525 N.E. Stephens Street in Roseburg. The alarm was received at 0957 hrs. for a apartment on fire in the two story complex. The first arriving fire engine extended a hose line to the second story apartment and extinguished the fire which had spread from a mattress to the structure itself. Firefighters used large fans to pressurize the building and remove smoke. Fire District No. 2 also dispatched an ambulance to the scene to assess a resident that was having difficulty breathing. The resident was not transported to the hospital.
Fire District No. 2 officials credit the quick action of Douglas Mezgear who likely saved the life of his neighbor. Douglas Mezgear's smoke alarm started beeping and he investigated the cause of the alarm. As Mezgear looked into the common hallway of his apartment complex, he noticed smoke coming from his neighbor's apartment. Mezgear opened the door to the apartment of James Krol and yelled for him to get out of the room. Krol was trying to put out the fire and the smoke was getting worse. Mezgear called 911 and eventually removed Krol from the room. Mezgear notified other residents about the fire and the manager of the complex implemented their evacuation plan.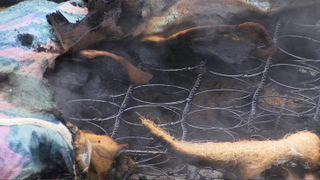 12 Fire District No. 2 personnel with three fire engines and four officers including a City of Roseburg Battalion Chief responded to the incident. The cause of the fire was determined to be a discarded cigarette into a waste basket that caught bedding and eventually a mattress on fire.
Fire District No. 2 officials advised there were several important lessons to be learned from this fire. The fire was caused by a discarded cigarette that ignited flammables in a trash can and then flammable bed coverings. Cigarettes should be disposed of in an approved manner and not with other combustible materials. The second lesson learned is not to disconnect smoke alarms. The smoke alarm in the apartment where the fire occurred had been disabled and was not working. If the neighboring apartments smoke alarm would not have sounded this fire could have spread to adjacent units. The last lesson that people should be aware of is that when leaving a room or apartment that is on fire, it is important to close the door behind you. The occupant of this fire left the door wide open which allowed smoke and heat to spread into a common hallway used for evacuation by other residents. By leaving the door open it also provides additional oxygen for the fire which can increase the size and intensity. Doors in apartment complexes are designed to prevent fire spread from unit to unit if they are closed.
For more information on apartment fire safety please click here.