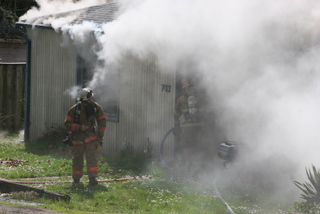 Fire District No. 2 and Roseburg City firefighters worked throughout Wednesday afternoon to extinguish a fire in a duplex located at 743 N.E. Clover Street in Roseburg.  A passing motorist noticed smoke coming from the eves of the building and called 911.  No one was home at either unit at the time of the fire.  The 911 call was received at 2:11 P.M. and units remained on scene until 5:45 P.M.
First arriving firefighters found a duplex with heavy fire involvement in one unit and smoke and heat extending into the second unit.  The attic of the duplex was filled with smoke and fire and made final extinguishment difficult for firefighters. Insulation in the attic was made of recycled paper (cellulose) which smoldered for hours after the fire was extinguished.  Firefighters wearing self contained breathing apparatus had to remove much of the smoldering insulation to make sure the fire was out.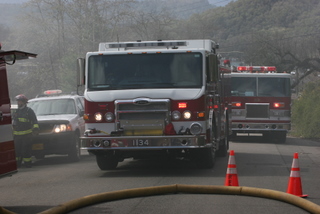 The home was owned by Robert Naugle and the occupants of the units were: Don Mattingly in one unit and Crystal Martin in the other half of the duplex.  Ms. Martin was assisted by the Red Cross who provided shelter and clothing assistance.  Mr. Mattingly was staying with relatives in the area.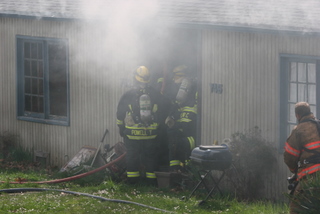 The cause of the fire was determined to be an overloaded extension cord and multi-prong adapter.  The small extension cord was supplying several item and the cord and connection was buried beneath household items causing excessive heat build up and eventually the fire.  Fire officials recommend that residents only use approved extension cords and multi-strip adapters with a circuit breaker.  Residents should also make sure that the number of items connected to extension cords do not exceed the capacity of the wiring circuit or the cord itself.