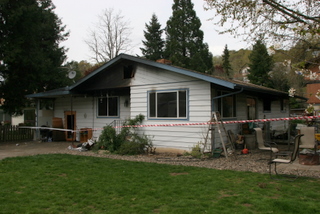 Douglas County Fire District No. 2 firefighters battled an early morning structure fire at 1392 Newton Creek Rd. early Saturday morning.  Firefighters were dispatched to the fire at 1:38 A.M. First arriving firefighters from the Winchester fire station found the home to be heavily involved with fire on the back-side of the home. The fire was spreading to an adjoining fence and the extreme heat was damaging the neighbor's house. Firefighters worked quickly to extinguish the fire and prevent fire spread to the adjacent home.
The 1260 square foot home suffered severe fire and smoke damage as a result of the fire.  The home owners (Chris and Cynthia Van Allen) were not home at the time of the fire.  Douglas County Assessor's Office records indicate the home is valued at $68,000.00.  No damage estimate is available at this time.  The adjacent home located at 1352 Newton Creek Rd. suffered heat damage that melted exterior blinds and cracked several glass windows.
Fire Marshal Josep Pedrola and the Douglas County Fire District No. 2 fire investigation team were back at the home Saturday morning looking for the cause of the fire.  At this time, the cause of the fire has not been determined.
13 firefighters with Douglas County Fire District No. 2 responded with four fire engines, along with a Battalion Chief from the City of Roseburg.  Pacific Power and Light and Avista Utilities responded to the scene to disconnect the utilities to the home.
A pet turtle died in the fire.  There were no firefighter injuries reported.  The homeowners will be staying on site in a RV.