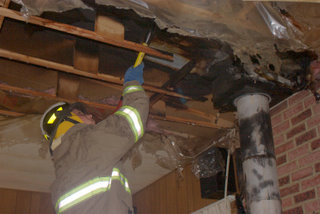 Firefighters with Douglas County Fire District No. 2 responded to a reported flue fire Thursday at 1:03 P.M.  The home was located at 214 Timberlake Ave. in Roseburg.  The home was owned by Rigoberto Herrera and Candace Mock.  The fire caused and estimated $8,000.00 in damage.
Prior to the first fire engine arriving at the scene, the homeowner called back and advised that the fire had spread from the chimney and was now coming from the roof of the home.  First arriving firefighters found a double wide manufactured home with light smoke coming from the building.  Further investigation revealed a fire was burning in the attic space around the stovepipe.  Firefighters extinguished the fire and then removed the ceiling and insulation around the pipe to make sure the fire did not extend.  
12 firefighters with three engines one ambulance and three command staff responded to the fire.  The fire was placed under control 13 minutes after the first engine arrived at the scene.  
Flue fires commonly spread to walls and the attic area of homes.  Flues can deteriorate over time letting a tremendous amount of heat escape during a flue fire. If wooden rafters in the ceiling or roof are in contact with the flue, the wood may catch on fire.  Homeowners should have their flue inspected and cleaned annually and burn only dry wood.