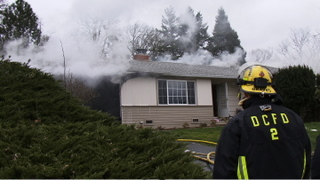 Douglas County Fire District No.2 (DCFD #2) responded to a report of a fire in the carport and house at 3199 Follett Street this morning. The call was received at 10:22 and the first arriving engine was on scene  at 10:29 (7 minutes after the call was dispatched).  The fire originated in an enclosure that housed a water heater, furnace and washer & dryer before spreading into the carport where firewood and other combustible materials were stored. It also extended into the kitchen and attic of the
house.
A Battalion Chief, 3 Engines and 2 Ambulances responded to the scene. The cause of the fire was determined to be an electrical malfunction of the water heater.
Estimated damage to the building and contents is $30,000.
No injuries to firefighters occurred during this incident.