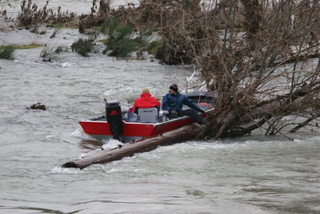 The Douglas County Fire District No. 2 water rescue team and the Douglas County Sheriff's Office Marine Patrol Unit responded to a stranded boater Friday afternoon.  The boat was a 18.5 foot North River sled boat owned by Brett Agost of Milwaukee, Or.  The boat was stuck sideways against a log and tree in the middle of the river.  The incident took place on the North Umpqua River between the Winchester Dam and Whistlers Park. The powerful river currents refused to relinquish its grip on the boat as its two occupants awaited help from a friend who lived down river from the incident.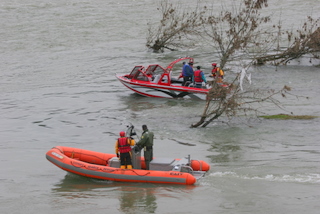 First responders arrived to find the boat stuck approximately 100 feet from the shore with two occupants sitting in the boat.  Rescuers made contact with the occupants who were refusing assistance.  "They wanted to stay with their boat and wait for their friend to pull them to safety."  Rescuers staged personnel downstream with rope throw bags in case the boat capsized or someone fell in the river.
Rescuers were concerned that darkness would soon set on the incident making rescue efforts more dangerous.  Rescuers advised the occupants that they would have to leave their boat if their friend could not pull them out by 3:30 P.M. Battalion Chief Roger Johnson said,  " The area they were stuck in was full of trees, logs, and debris which can easily trap a person if they fell into the river.  Searching for victims in the darkness also increases the risk of injuring rescuers or losing one of the boaters if they fell into the water."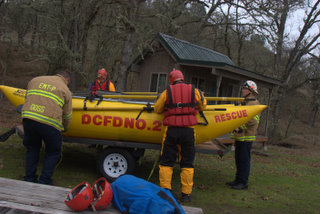 The boater's friend arrived and attempted to maneuver into position to free the stuck boat.  All attempts to free the boat were unsuccessful and the Douglas County Sheriff's Office Marine Patrol Deputy ordered the occupants to abandon the boat for the day.  The boater's were escorted to safety and all rescue personnel returned to station.